NOVEMBER 18, 2020BY CHRIS CROWELL
After the Solar Builder readers cast their votes to choose our annual Project of the Year winners, Solar Builder's editor gets to pick his favorites among the Project of the Year field of nominees. In a variety of categories from the Most Resilient to the Coolest Carport, here are the 2020 Solar Builder Editor's Choice Award winners.
Most Stylish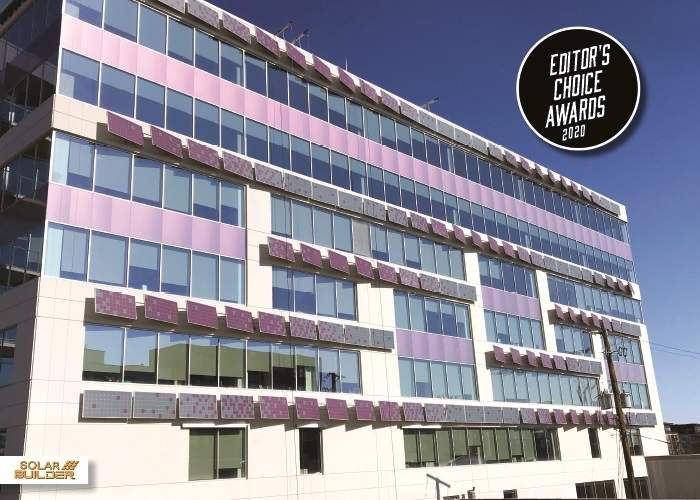 Mozaic East | Minneapolis | 43 kW
Developers: The Ackerberg Group, Alliance
Contractor: All Energy Solar
Modules: JA Solar, Sistine Solar
Inverters: Enphase
Custom racking
The Ackerberg Group wanted solar panels to meet the energy goals of their LEED Gold certified MoZaic East building in uptown Minneapolis, but they were clear that they wanted the installation to be "anything but traditional." The All Energy team of in-house artists and designers collaborated with Ackerberg's architecture partners, Alliiance, to achieve a design that fit with the architectural features of the MoZaic East building. To do so, they utilized Sisitine Solar's SolarSkin, an aesthetic overlay that transforms the look of any solar panel. The final installation involved 24 distinct and different checkerboard patterns, each with varying mixes and distributions of purple and grayish blue to pay homage to the color shifting characteristics of the façade.
Community Standout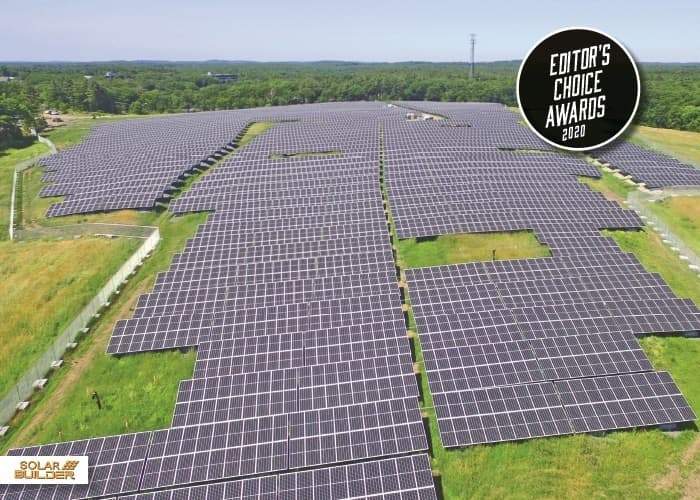 Beverly Community Solar Project | Beverly, Mass. | 4.9 MW
Developer: BlueWave Solar
Owner: Navisun
EPC: Signal Energy
Modules: Q CELLS
Inverters: SMA
Structural: Solar FlexRack
Four years in the making, BlueWave Solar worked with the city council of Beverly to identify the site and the incentive program (Massachusetts SMART) that would make the project economically feasible. The solar project is installed with Solar FlexRack B3P-X racking, known for its ease of installation and wide range of adjustability to accommodate challenging terrain. Signal Energy and Solar FlexRack worked to solve challenges from site access, design modifications, sloping terrain, soil resistivity and exposed rock. But then there was a global pandemic. Signal quickly mobilized their teams, modifying schedules and plans, establishing sanitizing stations, distributing protective gear and re-sizing crews with new protocols to ensure the health and safety of their employees. There were additional challenges with supply chain disruption and delivery issues. Signal Energy could have declared force majeure, but they persisted. As a result, a landfill has been converted to a clean power plant that generates enough energy to power 500 homes. The project is currently owned by independent power producer Navisun.
Go even deeper into the development of this project in this "Resolving Complexities in a Community Landfill" three-part series, exclusive to Solar Builder.
Most Inventive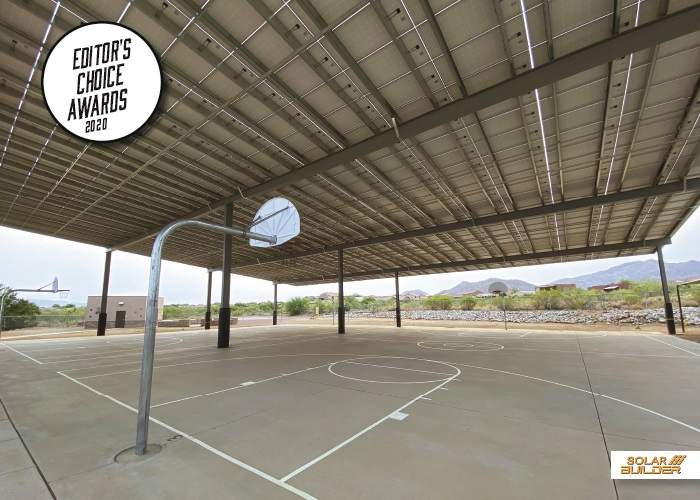 Sycamore Elementary & Corona Foothills Middle School | Vail, Ariz. | 432.63 kW
Developer / Owner / EPC: SOLON Corporation
Modules: Flextronics
Inverters: Chint Power Systems
Mounting: Park-N-Shade
Vail School District partnered with SOLON Corporation to construct a total of 4 MWs of solar at 11 school campuses. The combined systems will generate over 132,000 kWh of electricity in the next 20 years and the district is expected to save at least $11 million. That's all cool, but the Sycamore Elementary & Corona Foothills Middle School project specifically stood out to us. It includes two large solar superstructures totaling over 28,000 sq. ft. Each superstructure covers two basketball courts, turning these solar arrays into multipurpose usage areas with tremendous value under the Arizona sun. Energy-efficient LED lighting was even installed to increase nighttime visibility for school activities and other events. The covered areas can now be used for basketball, sports, assemblies, outside classes and meetings, fundraisers, concerts, plays and many other uses where shade is desirable. SOLON acted as EPC but also owns and maintains the system.
Most Resilient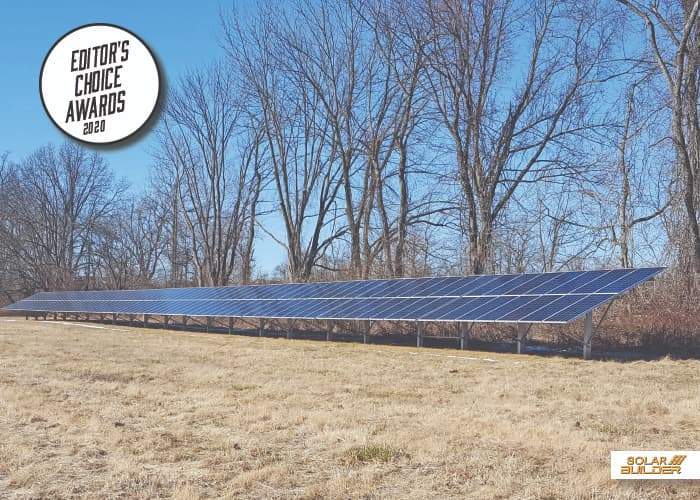 Windy Hill Project | West Chester, Pa. | 49.5 kW
Developer: Paradise Energy Solutions
Modules: Axitec
Inverters: SMA
Mounting: OMCO Solar
Storage: Axitec
The owners of this system presented Paradise Energy Solutions with a unique set of requirements. They desired a grid-tied solar + storage system (with ability to go off-grid), sized to supply energy for a home/office building (large enough to house two full families and also has a wing for entertaining and presenting to clients), with additional loads to be backed up including a geothermal pump system and an electric vehicle charging station. Finally, the system needed to integrate with a propane generator for backup of the solar batteries. This project took a great deal of design work, in addition to the challenge of communicating the necessary information to the permitting agencies, utility engineers, GEC constructing the facility, hardware vendors and various inspectors. All parties were able to reach a satisfactory design, which has since been tested through several small utility disruptions, including one ice storm.
Coolest Carport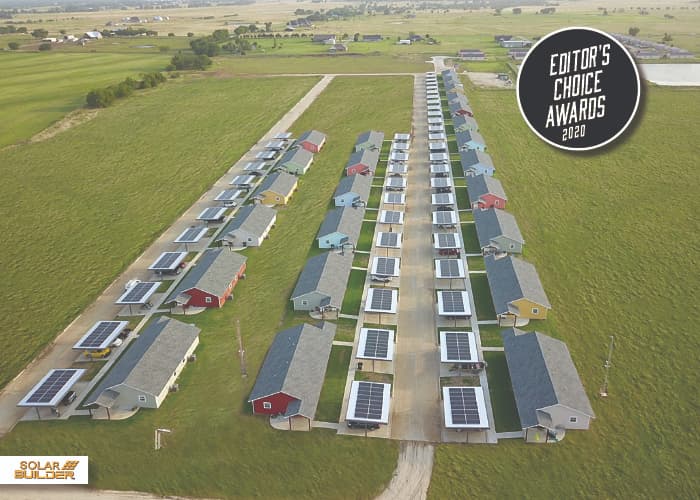 Sunview Development Corp. | Durant, Okla. | 257 kW
Developer: Sunfinity Renewable Energy
Contractor: Systematic Solar Solutions
Modules: TaleSun 335
Inverters: Delta
Mounting: Aerocompact
This project was Phase II of solar being deployed by a homebuilder, Oklahoma-based Sunview Development Corp. In total, 48 individual existing carports each were topped with 16-panel solar systems. While solar-topped carports aren't new, these homes are rentals, and the solar actually serves as a competitive advantage in the marketplace. Sunview is able to offer homes with overall lower electric bills vs. other rentals, helping each family save about $850 annually on electricity.
This article & photograph originally appeared in a Solar Builder post on November 18th, 2020.